Collaborate

Experts at your service
Health Campus Turku TERTTU Collaboration Service brings together all the expertise and co-creation services at Health Campus Turku. TERTTU offers a wide selection of services within research and development, and co-creation services such as testbeds.
Our collaboration service provides various opportunities for collaboration in research, development and testing and enables co-creation of new solutions with professionals in the field of health and life sciences and other related areas such as food, drug discovery and development, diagnostics and device development.
The collaboration service saves time when trying to find the right collaboration partner and offers all the expertise at Health Campus Turku through one channel. Service providers are the Health Campus Turku organisations and their specialized units.
Learn more about the different possibilities and share your idea or collaboration need on our TERTTU Collaboration Service.
Initiatives are handled in the TERTTU Evaluation team which consist of research, development and innovation specialists from the Health Campus Turku organisations. All information is treated confidentially.
Contact through TERTTU service is always free of charge. The pricing of further research, development or testbed services is fixed on a case-by-case basis.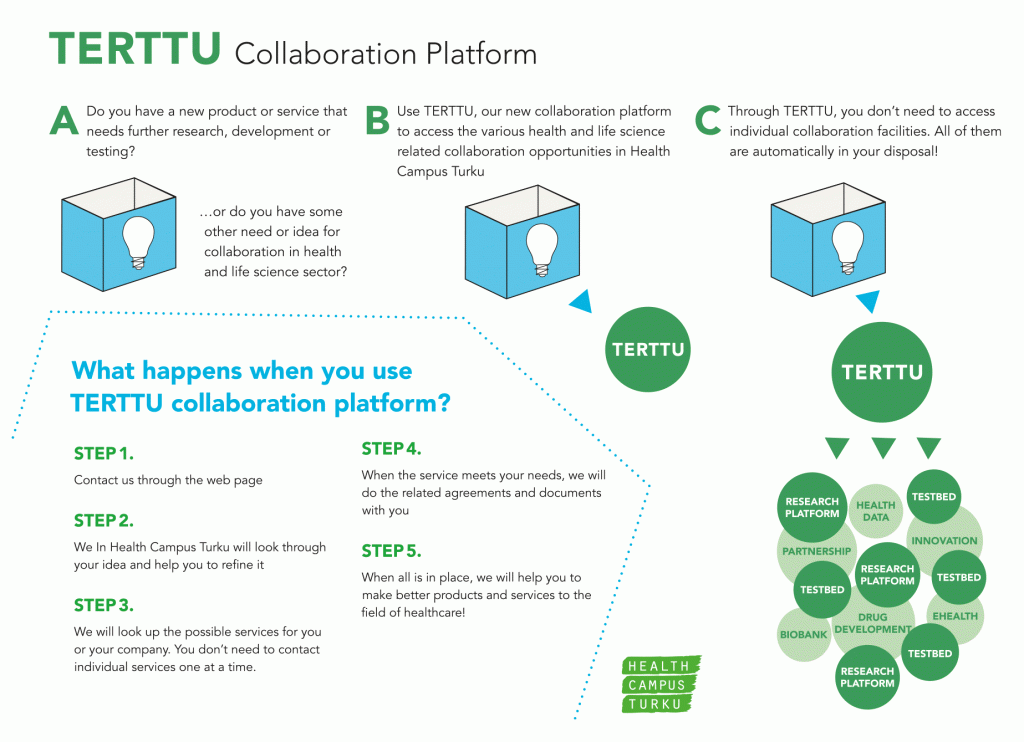 Learn more
Tietoisku TERTTU-palvelusta (video in Finnish)
Press release about TERTTU collaboration service (TERTTU-palvelu)